When:
19 June 2019 @ 6:30 pm – 8:30 pm
2019-06-19T18:30:00-04:00
2019-06-19T20:30:00-04:00
Where:
First United Church
16 William Street West
Waterloo, Ontario
Canada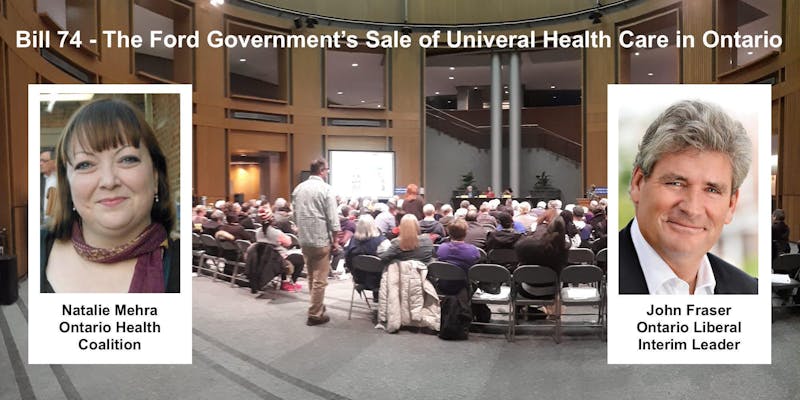 Join Ontario Liberal Interim Leader John Fraser and the Ontario Health Coalitions's Natalie Mehra to learn about Bill 74.
In April, the Ford government passed Bill 74 with very little public consultation. This legislation will allow private health care organizations to manage and to make critical decisions about our universal health care system and the amount and type of care provided in our region and province. Health care shouldn't be controlled by Doug Ford's friends in the private sector.
Learn about Bill 74 and how to fight back!
Join us for a Town Hall on Wednesday, June 19th at 6:30 PM at the First United Church (16 William St W, Waterloo, ON N2L 1J3) to learn what's in Bill 74 and how it will affect universal health care in Ontario.
Our keynote speakers will be:
John Fraser, Ontario Liberal Interim Leader – Mr. Fraser was the Parliamentary Secretary to the Minister of Health & Long-Term Care in the previous Liberal government and currently serves as the Liberal Health Care Critic.
Natalie Mehra, Ontario Health Coalition Executive Director – Ms. Mehra has served for the past ten years as executive director of the Ontario Health Coalition, which is dedicated to protecting and improving universal public health care in Ontario. She has authored numerous reports on health policy, non-profit governance, disability issues, and human rights.
After their speeches, Mr. Fraser and Ms. Mehra will be taking questions from the audience.
The Ford Government's Sale of Universal Health Care in Ontario (Bill 74) Tickets, Wed, Jun 19, 2019 at 6:30 PM | Eventbrite