Date/Time
Date(s) - Saturday, 27 October 2018
12:00 pm - 2:00 pm
Location
Rotunda, Kitchener City Hall
Categories
Register here
Download the poster (.PDF, 2 MBytes) Join the groups and organizations that make up KWPeace for a midday meal and a conversation about Peace, Nonviolence, Social Justice and Climate Change.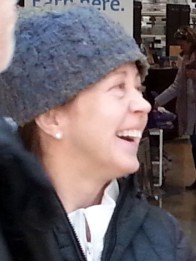 The guest speaker is Tamara Lorincz, who is completing her PhD studies in Global Governance at the Balsillie School of International Affairs. She will talk about Canada's new defence and foreign policies and the environmental and social impacts such as climate, military spending, etc. The food for this event is provided by Kitchener Food Not Bombs, which picks up donated food from grocery stores, cooks fresh vegan meals, and serves these meals to the community for free! All groups and organizations working towards Peace, Nonviolence, Social Justice or Climate Change are invited to have an information table around the rotunda. Please register to reserve your place.
There is no charge for this event, but donations are gratefully accepted to offset the costs.

What: Perspectives On Peace — Where's The Peace and Justice? Canada's New Foreign and Defence Policies
When: Saturday, 27 October 2018 from noon to 2:00pm
Where: The Rotunda, Kitchener City Hall
Location: 200 King Street West, Kitchener, Ontario Map
Supporting organizations

| | |
| --- | --- |
| | Kitchener Food Not Bombs |
| | Social Development Centre Waterloo Region |
| | Divest Waterloo |
| | Kindred Centre For Peace Advancement at Conrad Grebel University College |
| | Christian Peacemaker Teams |
| | Alternative Vision for Peace / AVP-KW |
| | Conscience Canada |
| | KW Animal Save |
| | Kitchener-Waterloo Climate Save |
| | Canadian Unitarians for Social Justice |
| | Amnesty International Group Nine |
| | Waterloo Region Greens |
| | Fair Vote Canada Waterloo Region Chapter |
| | KW Community Kitchen at St. John the Evangelist |
| | WR Nonviolence |
KWPeace is an umbrella group of many different Peace and Social Justice organizations throughout Waterloo Region and the surrounding area. We work cooperatively for a better world.
Registration

Bookings
Bookings are closed for this event.