What: Amnesty International Write For Rights
When: 11:00am to 4:00pm on Saturday 9 December 2023
Where: Kitchener Public Library, Meeting Room D
Location: 85 Queen Street North, Kitchener, Ontario Map 1
E-mail: groupnine9@gmail.com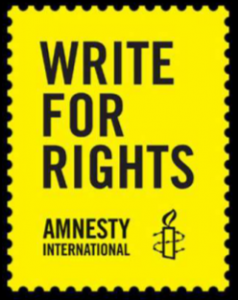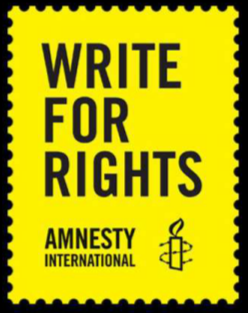 Children are welcome!
Write for Rights is the world's largest human rights event. It's a moment when Amnesty International's 7 million supporters around the world join together in a letter-writing blitz calling on governments to respect human rights!
Drop in and find out about the 11 cases we are highlighting this year. You can make a difference by signing letters and petitions to governments defending the rights of refugees, women, indigenous peoples, and human rights workers!
A letter from the organizers
Hello,

We hope to see you soon at our first in-person Write for Rights event since COVID!!! This year it will be held in KPL Room D Saturday December 9 from 11am to 4pm.

We will be joining together with Amnesty International's millions of supporters around the world in a letter-writing blitz calling on governments to respect the rights of eleven selected groups and individuals at risk.

We have had many successes over the years including the release of political prisoners, the ending of torture in specific cases and in bringing human rights offenders to justice.

We are including a package so that you can print and sign letters in advance and bring them to the event. Then when you arrive, you can focus on creating cards of support for the individuals at risk. We will have cards and art materials available for you to use.

We are also including a young people's activity package — so if you are a parent, teacher, grandparent and have some time to sit down with your young person — you can create a card of support for indigenous Torres Strait islanders and bring it to our event. Take a picture of your activity and send it to groupnine9@gmail.com so that we can post it to our Facebook page. The young person's activity will also be available at the KPL event as well as a creative activity for younger children!!

At our regular meeting on Tuesday, 5 December 2023 we'll be firming up plans for the event as well as signing letters — so if you have downloaded and printed the package, please bring your letters to the meeting.

Helpful information about the event:

If you are coming to the KPL by car, you can

park for free

in the open-air lot to the east of the Library. If you park underground you'll have to pay.
Room D is on the

lower level

. Food brought from outside is not allowed. If you wish to have something you can purchase it at the café upstairs.
If you are

printing your own letters at home

and do not want to bring them to the Library on the 9th, you can drop them off in the W4R box which will be on the front steps at 97 John Street West Map 2 from 10-17 December. In either case, please do NOT put your letters in individual envelopes. Fold each letter in half and write the country to which it is being sent on the outside. Please have all your letters in a single large envelope with your name on the outside, or held together with a rubber band and a label giving your name.

Take care,
David and Margaret

PS — If you want to edit your letters please send a request to groupnine9@gmail.com and we will send you a WORD version.