Jim Stewart of The Waterloo Region Health Coalition writes:
MARCH to "Save our Hospitals" & Million Medicare Defenders
Thank you very much to all who came to our Waterloo Region Town Hall. We discussed how to make the fight visible, to show real resistance to the Ford government's refusal to take urgent action on the hospital crisis while at the same time privatizing our hospitals. We must come together to share our concern and make it very clear that privatization is not the solution to our hospital crisis.
Now it is time to make this clear to Ford and demand urgent action to fix the hospital crisis and stop privatization. Join our protests in Waterloo Region.
If you were not able to make it to any of the Town Halls the recordings are available on our YouTube channel: Waterloo Hospital Emergency Town Hall Meeting
As outlined below, the first stage of our plan is to hold a major protest to show our support and solidarity with our hospital staff and leaders and also send a strong message to the Ford government. Please share it widely with everyone you know and help to make it a huge show of strength. Thank you! ❤ We will look forward to seeing you all there.
The call-out is below.
The Ford government has done almost nothing to fix the crisis in our hospitals.
Force Ford to act urgently to support our public hospitals now and stop privatizing their services!
Region of Waterloo
Where: Waterloo Public Square
Location: 75 King Street South, Waterloo, Ontario Map
When: Noon on Monday, 12 December, 2022.
We will March to the Grand River Hospital in Kitchener across from CTV News.
If you are able to make it please contact: Jim Stewart at waterlooregionhealthcoalition@gmail.com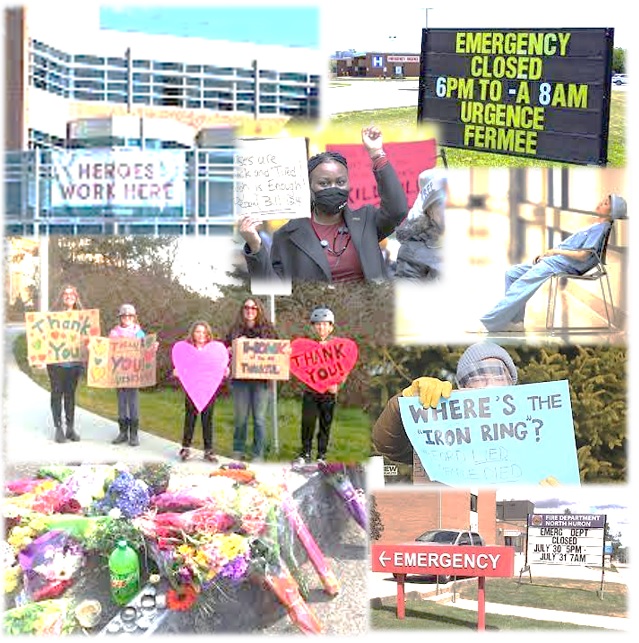 You can also bring signs and messages to Doug Ford to finally take urgent action to restore and rebuild our public hospital services, STOP privatizing them.
Also, please consider becoming one of our million Medicare Defenders. This is not a membership list and you can click NO on the registration and we will not contact you or use your information for anything. This is to tell Doug Ford in no uncertain terms that he does not have a mandate from Ontarians to privatize our public health care. We need to get as many people as possible to scare the Ford Government away from their plans to privatize and do nothing to help the crisis in our hospitals.
You can become a Medicare Defender at https://www.ontariohealthcoalition.ca/
You can also help by: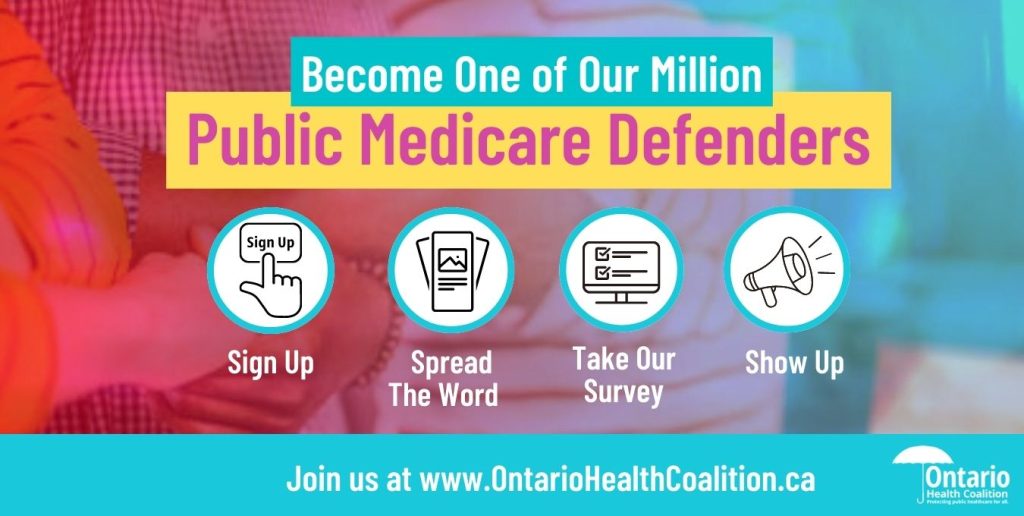 Thank You.
–Jim Stewart, Chair
Waterloo Region Health Coalition