Is an event missing? Let us know at info@kwpeace.ca
Add these events to your calendar: iCal (.ics file, approx. 300 kBytes)
May
20
Mon
2019
Benefit Concert in support of Mary's Place

@ St. Peter's Lutheran Church
May 20 @ 7:00 pm – 9:00 pm
Favourite selections by Bach, Handel, Mendelssohn, and others
On Monday, May 20, 2019, acclaimed tenor and Wilfrid Laurier University graduate Thomas Leslie and renowned organist Christian Lane present a benefit concert on the beautiful pipe organ of St. Peter's Lutheran Church, Kitchener. The concert features a program of timeless favourites from the organ and opera repertoire. Admission is by donation, with proceeds going to support Mary's Place, a local YWCA emergency shelter for women, transgendered people, and families who are homeless.
The concert is presented by the Canadian International Organ Competition as part of their series The Organ Takes its Place, a year-round concert series showcasing the pipe organ and bringing its music to audiences all across Canada. The series is made possible by the generous support of the Canada Council for the Arts.
PERFORMERS:
Thomas Leslie is originally from Halifax, Nova Scotia and sings regularly throughout Eastern Canada and the United States. Thomas has been heard as a panelist on CBC Radio's Opera Quiz and was featured on the Bravo Network documentary series The Classical Now.
Christian Lane is the winner of the 2011 Canadian International Organ Competition and director of the Boston Organ Studio. In 2018 he joined the faculty of McGill University in Montréal. He is one of North America's most accomplished, respected, and versatile concert organists and pedagogues, and he performs regularly throughout the United States and in Europe.
Benefit Concert in support of Mary's Place
Monday, May 20, 2019: 7:00 PM
St. Peter's Lutheran Church
49 Queen St. N
Kitchener, ON N2H 2G9
Admission by donation in support of Mary's Place at the Kitchener YWCA
For more information: +1-514-510-5678 | http://www.ciocm.org
CANADIAN INTERNATIONAL ORGAN COMPETITION
The Canadian International Organ Competition (CIOC) promotes organ music by increasing public awareness and interest for this fascinating art form. In addition to a yearly festival, every three years the CIOC hosts an international competition during which a prestigious international jury awards over $100,000 in prizes to a selection of the best young organists in the world. The next competition is set to take place in 2020.
SOURCE: CANADIAN INTERNATIONAL ORGAN COMPETITION
CONTACT:
Adrian Foster
Development and Artistic Operations Manager, CIOC
adrian.foster@ciocm.org
+1-514-510-5678
May
28
Tue
2019
85 Queen: An Evening with Timea Nagy and Shannon Moroney

@ Kitchener Public Library
May 28 @ 7:00 pm – 9:00 pm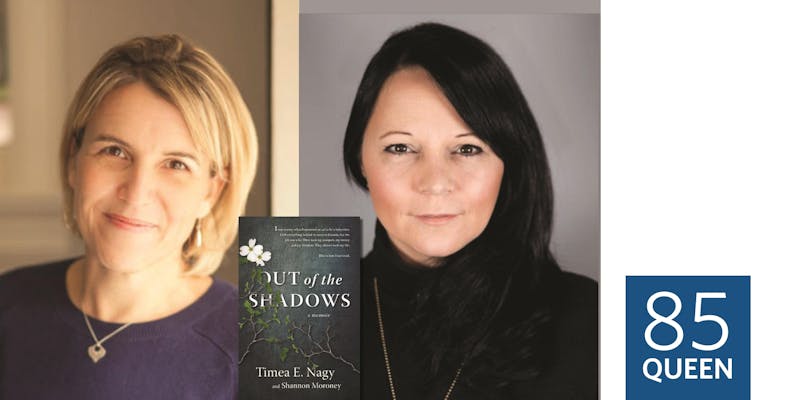 Registration required and opens Tuesday, May 7 at 9 am
-presented in partnership with Community Justice Initiatives
Timea Nagy was twenty years old when she answered a newspaper ad in Budapest, Hungary, calling for young women to work as babysitters and housekeepers in Canada. Hired by what seemed like a legitimate recruitment agency, Timea left her home believing she would earn good money to send back to her family. What she didn't know was that she'd been lured by a ring of international human traffickers — and her life would never again be the same.
Upon her arrival in Toronto, she was forced into sex labour in some of the city's seediest nightclubs, starved and controlled by her agents, and brainwashed to believe she was to blame for her situation. The only way she'd be free was when her debt was paid — but, no matter how hard she worked, that debt seemed only to go up, not down.
Out of the Shadows is a gripping, heartbreaking and eye-opening journey deep into the underworld of human trafficking and the sex trade, told in riveting detail by one brave survivor. At once tragic and powerfully redemptive, Timea Nagy's story is one that will stay with you long after you've read the last page.
TIMEA EVA NAGY is a human trafficking survivor, author, educator, inspirational speaker andone of the most recognized advocates against human trafficking in the world. She is the founder of Timea's Cause, a corporation dedicated to the rehabilitation of sex slavery victims and to anti-trafficking education and training for the public, major banks, law enforcement teams and other front-line professionals. Timea lives outside Toronto with her family. Visit her at www.timeanagy.com
SHANNON MORONEY is the bestselling author of Through the Glass, which chronicles her journey following the violent crimes and incarceration of her first husband. Recognized in the top ten list of books at the World Empathy Library, she is a recognized advocate of restorative justice, a powerful speaker, and a transformative facilitator, leading workshops and retreats for people and communities overcoming trauma. Shannon lives in Toronto with her family. Visit her at www.shannonmoroney.com
Book signing to follow. Copies of the authors' book will be available for purchase .

All Natural Bath and Body products available for purchase from Timea's Cause Inc and "Words From the Heart" greeting cards from Shannon Moroney.
---
Limit two tickets per valid email address.

As our events are free, it is our policy to overbook. In case of a full program, your reservation may not guarantee admission. We recommend that you arrive early.

85 Queen: An Evening with Timea Nagy and Shannon Moroney Tickets, Tue, May 28, 2019 at 7:00 PM | Eventbrite
Sep
21
Sat
2019
Doors Open Waterloo Region — @DoorsOpenWR
Sep 21 @ 10:00 am – 5:00 pm

Event: Doors Open Waterloo Region
When: Saturday, September 21, 2019, most sites open 10-5.
What: FREE architecture, heritage and tech open house event. Discover the secret places of Waterloo Region!
Cost: Free admission!
Extras! children's activities, music, drama presentations, walking tours and other special events (check our website www.regionofwaterloo.ca/doorsopen ).
For more information: Pick up the 2019 map & guide at libraries, museums and tourism offices across Waterloo Region from August to September, or on our website.
www.regionofwaterloo.ca/doorsopen +1–519–747–5139, doorsopen@regionofwaterloo.ca
Social media:
Jane Snyder & Karl Kessler
Doors Open Waterloo Region 2019

Saturday, 21 September 2019

10 a.m.- 5 p.m. at most sites

• Free heritage and architecture open house event • Free activities and performances • Special children's programming •